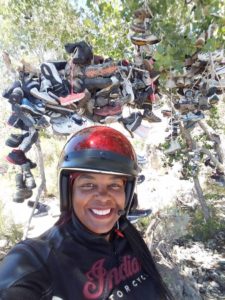 I remember like it was yesterday riding an Indian Roadmaster down U.S. Highway 50 through Nevada as the tail gunner for a pack of female motorcycle riders for the Sisters' Centennial Motorcycle Ride.
I notice a shoe tree to my right while riding west on U.S. Highway 50 on our way to grab a delicious burger at Old Middlegate Station.  The station served as a Pony Express stop in 1860-1861.  The restaurant is a few miles up the road from the shoe tree.
I inform Gin Sheer, Robin Rimsky and a few other female motorcycle riders during lunch I've been riding cross country with an old pair of cowboy boots in my saddle bag that I'd like to toss on a the tree since Indian Motorcycles gave me a brand new pair of Redwing Boots to wear as a sponsored motorcycle rider.
We ride our motorcycles back to the shoe tree after lunch so I can toss my cowboy boots in the tree.
Cowboy boots don't have shoe strings so Lisa Jackson gives me a zip tie to attach the boots together by the pull straps.
I toss my old raggedy Cowboy boots in the shoe tree on the first try!
Mission accomplished…now I ride home to California with a lighter load.