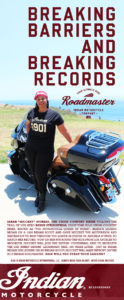 I'm HUMBLED and HONORED to have AMERICA'S FIRST MOTORCYCLE COMPANY – INDIAN MOTORCYCLE to SPONSOR ME for my 9TH ROUND TRIP CROSS COUNTRY MOTORCYCLE RIDE for a total of 18!!!!
I DECIDED 15 YEARS AGO TO RIDE MY MOTORCYCLE 18 TIMES CROSS COUNTRY because my Road Shero BESSIE STRINGFIELD rode her motorcycle EIGHT (8) TIMES solo across the United States of America during the 1930s and 1940s.
My goal was to ride an Indian Motorcycle to break BESSIE'S record because her FIRST MOTORCYCLE WAS A 1928 INDIAN SCOUT prior to owning 27 Harley-Davidson motorcycles.
Bessie's motorcycle riding routes were not documented unlike the first woman to ride cross country in 1915 Effie Hotchkiss (round trip) and the Van Buren Sisters Adeline and Augusta in 1916 (one way), which is my reason for counting round trips.
I'm forever grateful and thankful for INDIAN MOTORCYCLE making MY DREAM COME TRUE by allowing me the opportunity to ride cross country on the 2016 INDIAN ROADMASTER.