The convenience of GAS AND GO on a motorcycle may come with a hefty price if you plan to pay with a debit or credit card.
There is usually a very small sign on the gas pump informing customers your debit or credit card may be pre-authorized for an amount more than the purchase price.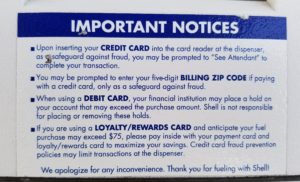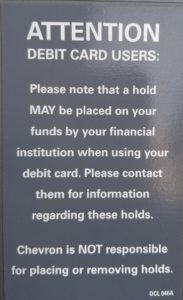 Paying directly at the pump can cost you an additional $1.00 to $150.00 plus hold for days after paying for gas to fill up the tank.
It's not only embarrassing to hear the cashier say "YOUR CARD IS DECLINED" while standing in a long line to make a purchase, it is also frustrating when YOUR MONEY IS ON HOLD!
Let's not also forget the scam artist that create skimmers to capture your transaction data from the magnetic strip on the back of your credit or debit card after entering your secret pin numbers at the pump to empty your bank account. Lost or stolen debit and credit cards with a chip are easy to use without proof of identity.
Budget smart for your motorcycle ride:
1. Call your bank before you ride to provide dates, states and countries you plan to travel.
2. Pay for your gas inside to avoid a hold on your money.
3. Have cash on hand.
4. Cash is still King.
5. Pay Inside, Gas and Go!