It's a great feeling to visit four different states at the same time without figuring out how to clone yourself.
I rode my motorcycle on gravel with a beautiful view of seven (7) flags representing three nations Navajo, Ute and United States of America and four states Arizona, Colorado, New Mexico and Utah. The Navajo Nation owns these remote areas of Arizona, New Mexico and Utah. The Ute Nation owns the southwest corner of Colorado.
On February 2, 1848, the United States acquired the remote area currently known as the four corners from Mexico under the Treaty of Guadalupe Hidalgo for $15 million. The people living in the area had the choice to relocate within the new borders of Mexico or receive full civil rights as an American citizen. It is worth noting the land was initially owned by Native Americans before it was claimed by Spain and before Mexico gained independence from Spain in 1821.
In 1912, the cement pad was built on site to officially mark the only place in the Unites States of America where four states meet at one point Arizona, Colorado, New Mexico and Utah. In 1931, the cement pad was replaced with a brass disc marker. In 1962, the Bureau of Indian Affairs and the Bureau of Land Management poured an elevated cement pad around the 1931 brass marker. The monument was rebuilt in 1992 replacing the 1931 brass marker with a disc shaped plate.  In 2010, the monument was rebuilt again with the same 1992 disc shaped plate.
The monument is located miles away from gas, food, and lodging. There are several campgrounds nearby the monument. Visitors are encouraged to bring water and hand sanitizer since there is no running water. There are booths surrounding the four corners monument to purchase jewelry, crafts and food directly from the Navajo and Ute.
You will have to wait patiently in line for your turn to stand or lay down in the middle of the four states or figure out creative ways to touch all four states with your arms and legs. Don't forget to get a picture!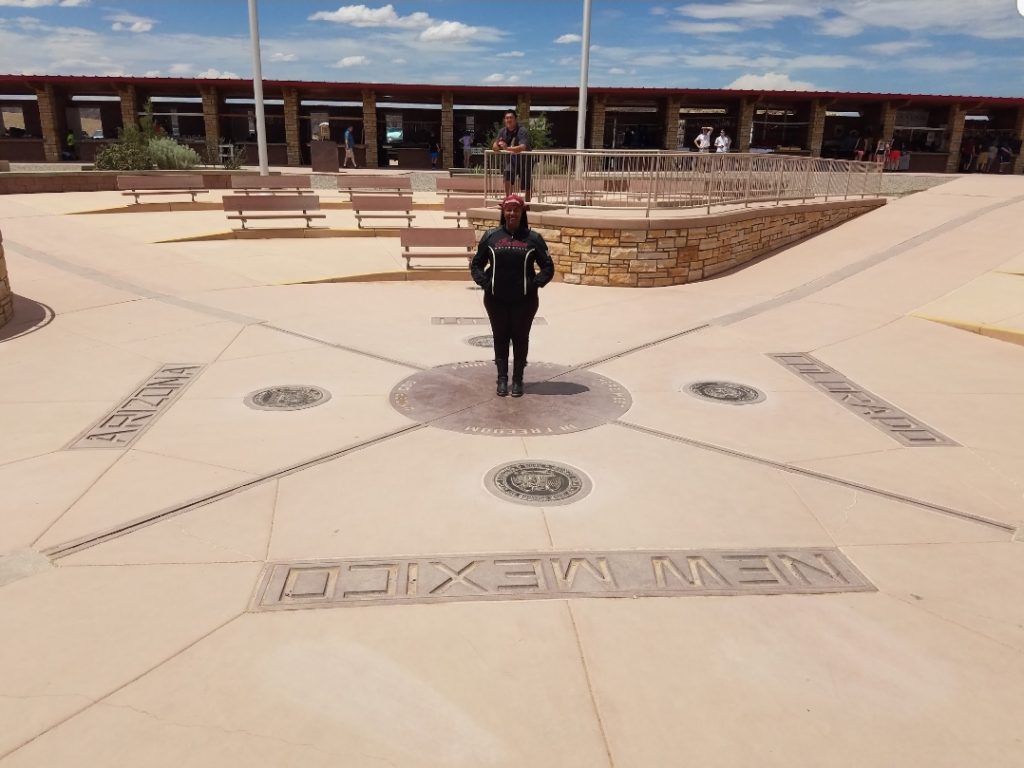 If you plan to ride your motorcycle to the Four Corners Monument, bring your kickstand pad.