Motorcycle ride to Memphis, Tennessee where two black sanitation workers  – Echol Cole age 36 and Robert Walker age 30 were crushed to death in a garbage truck compactor on Thursday, February 1, 1968 about 4:30pm.
April 3, 1968, Dr. Martin Luther King, Jr. marched in Memphis, Tennessee to support the strike of black sanitation workers for equal pay and better working conditions. Some black sanitation workers were not allowed to catch the bus, so they had to walk because their employer would not allow them to wash off the stench of trash in a sink like their white co-workers after working 9 hours per day for $1.25 per day.
April 4, 1968 – Dr. Martin Luther King, Jr. was assassinated at the Lorraine Motel in Memphis, Tennessee.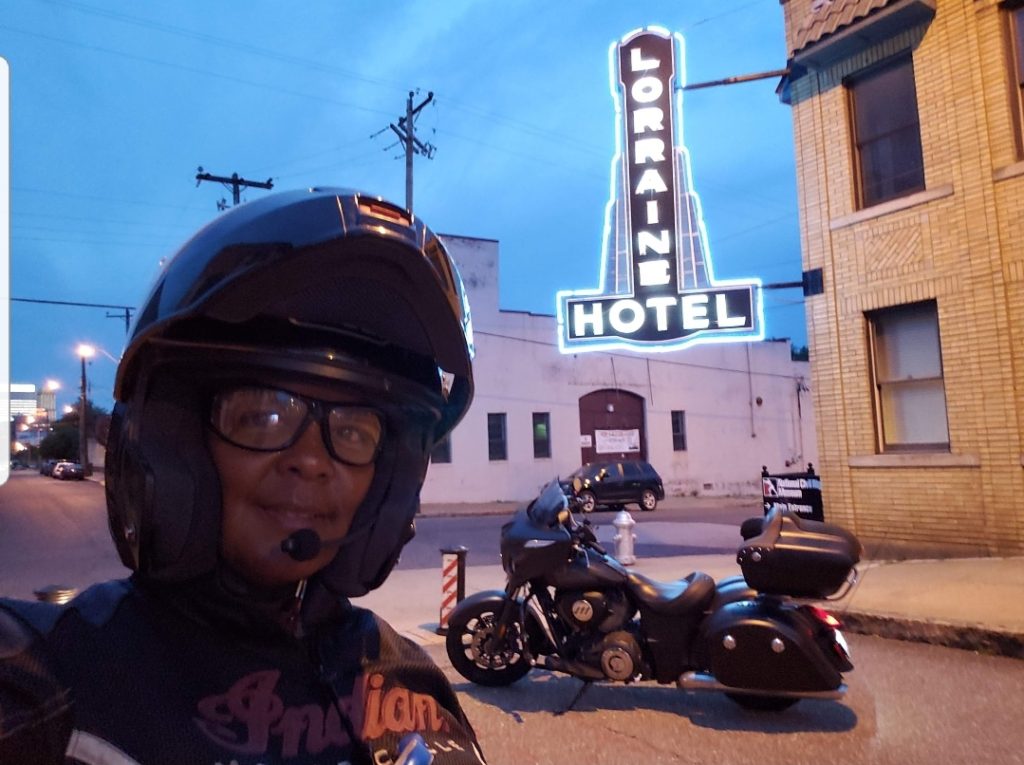 BRIEF BLACK HISTORY LABOR MOVEMENT TIMELINE
1844 – It is worth noting the state of Oregon ordered all black people to get out since it was the first state to make Labor Day a holiday in 1887.  Slave holders in Oregon could keep their slaves for up to three years. All free blacks including slaves had to leave Oregon. Those who refused to leave could be severely whipped not less than 20 or more 29 stripes to be repeated every six (6) months until they left.  Black women were given three (3) years to leave and black men were given two (2) years to leave under a law called the Peter Burnett's Lash Law . When Peter Burnett became the first Governor of California, his push for the exclusion of black people in California was defeated https://www.washingtonpost.com/news/retropolis/wp/2017/06/07/when-portland-banned-blacks-oregons-shameful-history-as-an-all-white-state/?noredirect=on&utm_term=.83c5932648f2.
1850 – Samuel Ringgold Ward organized the first black American labor union in New York, New York called the American League of Colored Laborers (ALCL) http://www.blackpast.org/aah/american-league-colored-laborers-1850 for skilled free craftsmen and to encourage African American business to develop agricultural and industrial skills.
1850 – White ship caulkers went on strike and started a riot against the well unionized black ship caulkers because they were sometimes paid more than them due to collective bargaining with Baltimore shipyard owners. The shipyard owners fired approximately 1,000 black workers including Isaac Myers http://www.blackpast.org/aah/myers-isaac-1835-1891 who was born a free black in Baltimore, Maryland in 1835. At the age of 16, he started working as a Ship Caulker. After Myers was fired in 1850 along with other black ship caulkers, he and other black laborers established the Chesapeake Marine Railway and the Dry Dock Company to employ themselves.
1865 – Blacks legally freed as slaves had a difficult time finding paid employment and joining unions including blacks in white-collar professions such as the first black lawyer Macon Bolling Allen http://www.blackpast.org/aah/allen-macon-bolling-1816-1894 and the first black doctor James McCune Smith http://www.blackpast.org/aah/smith-james-mccune-1813-1865. Some free blacks worked in blue-collar jobs such as servants, laborers, farm workers, artisans and caulkers.
1869 – African Americans established the Colored National Labor Union (CNLU) to improve working conditions and quality of life for its members collectively on a national level and public education with equal opportunities for blacks. Isaac Meyers became the first president of the CNLU. The CNLU included all races, genders, or occupations.
1872 – Fredrick Douglas http://www.blackpast.org/aah/douglass-frederick-1817-1895 became the second president of the Colored National Labor Union
1887 – Oregon was the first state to make Labor Day a holiday.
1894 – Labor Day became a Federal Holiday after a strike led by the American Railway Union also referred to as the Pullman Strike. Black Pullmans had to continue working because they were not allowed to join the union.
1925 – the Brotherhood of the Sleeping Car Porters  was established, and the first president of the union was Asa Philip Randolph http://www.blackpast.org/aah/randolph-asa-philip-1889-1979. This was the first union to receive a charter in the American Federation of Labor  known today as the American Federation of Labor and Congress of Industrial Organizations (AFL-CIO).
1940 – the International Association of Machinist union known to today as the International Association of Machinist and Aerospace Workers (IAM) banned segregation.
1942 – Executive Order 8802 https://www.eeoc.gov/eeoc/history/35th/thelaw/eo-8802.html was created by President Franklin D. Roosevelt to address pay inequality based on gender and race.
1943 – the National War Labor Board issued an order to abolish pay differentials based on race because America thought it was necessary for the Negro to work so America can win World War II.