Motorcycle riders like us enjoy the outdoors. So why not campout at the San Diego Zoo Safari Park to support conservation research and science to save species worldwide?
San Diego Zoo Safari Park is a wildlife sanctuary that is home to more than 3,000 animals on 1,800 acres of land.  On October 2, 1916, Dr. Harry M. Wegeforth founded the not-for-profit organization San Diego Zoo Global that operates the San Diego Zoo, the San Diego Zoo Safari and the San Diego Zoo Institute for Conversation Research.
Wear comfortable walking shoes and stay on the trail paths at the San Diego Zoo Safari Park for your safety to avoid an encounter with snakes and other animals.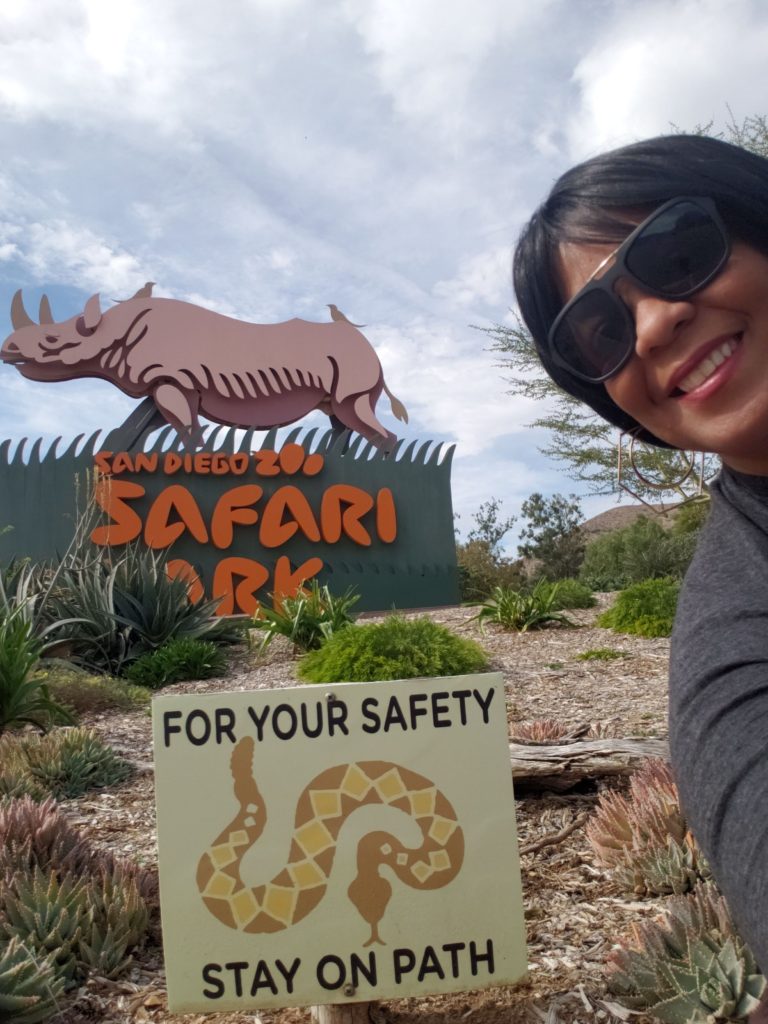 There are several activities to choose from to enhance your experience. We chose the two (2) hour Caravan Safari Adventure.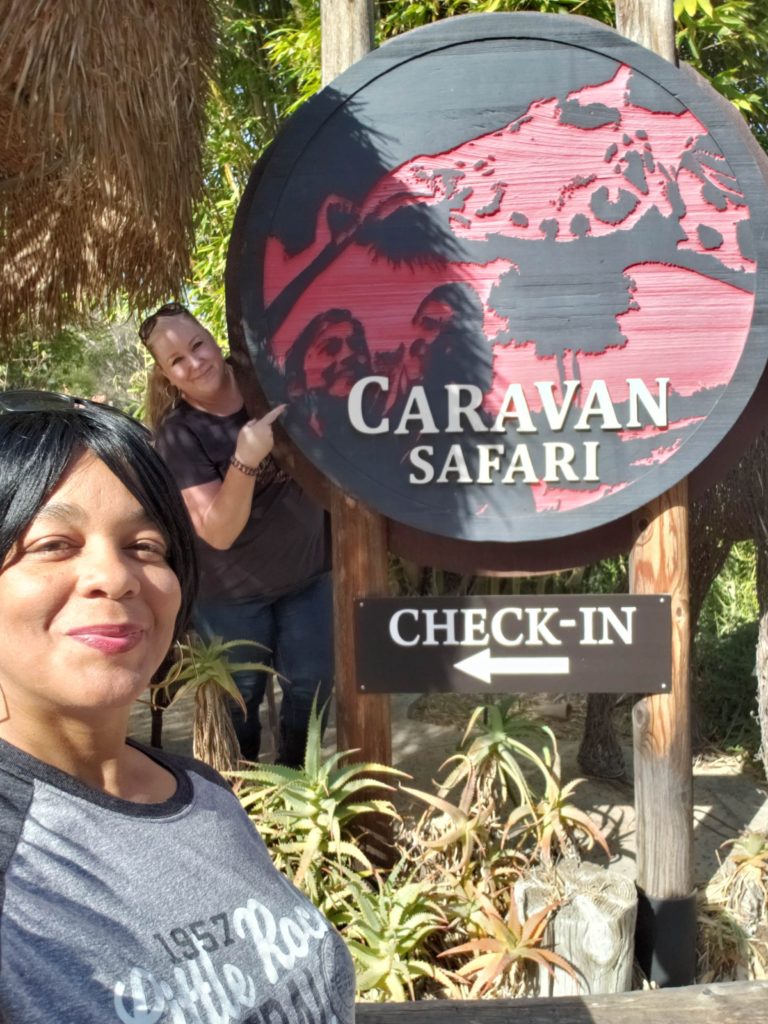 We had the opportunity to feed Giraffes acacia tree leaves, touch and feed a Rhino apple slices.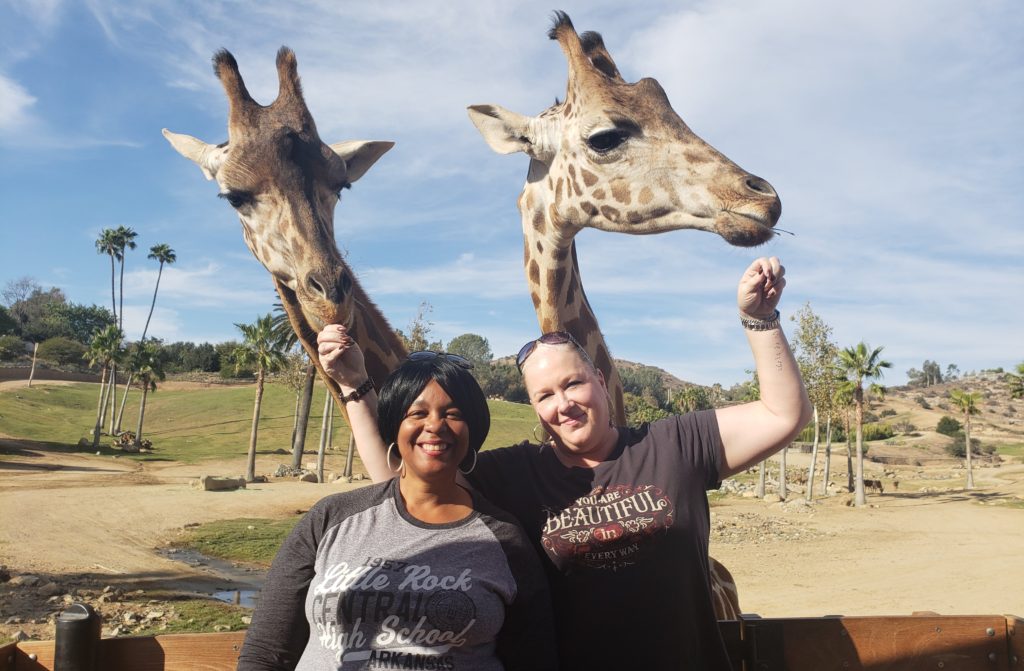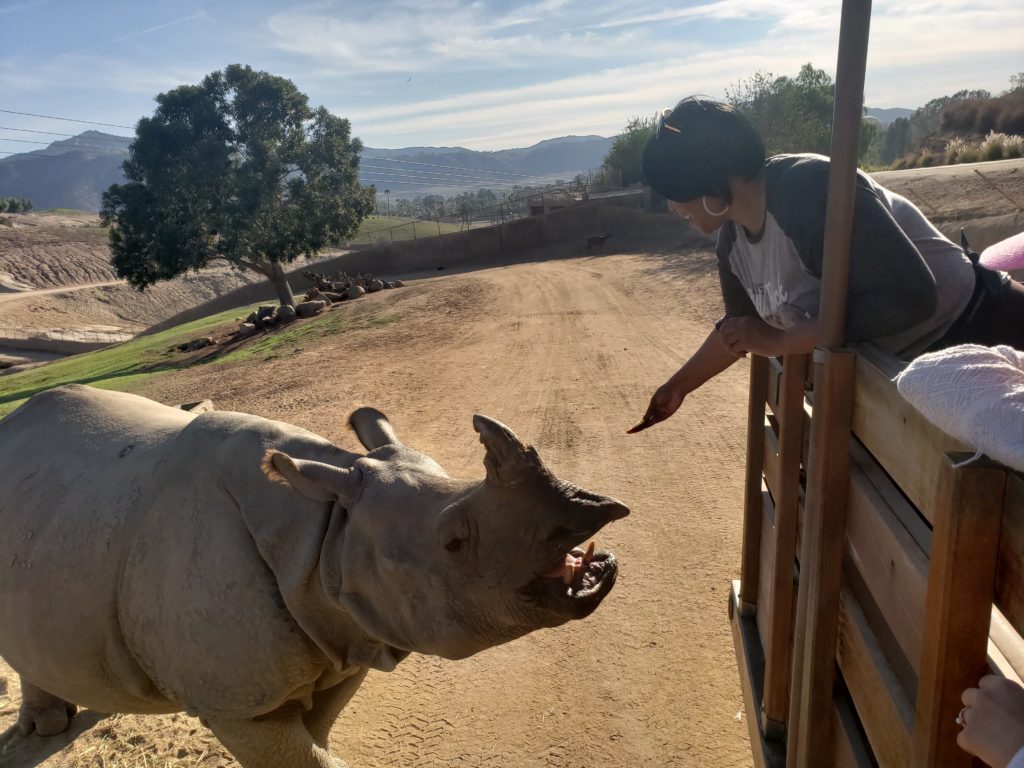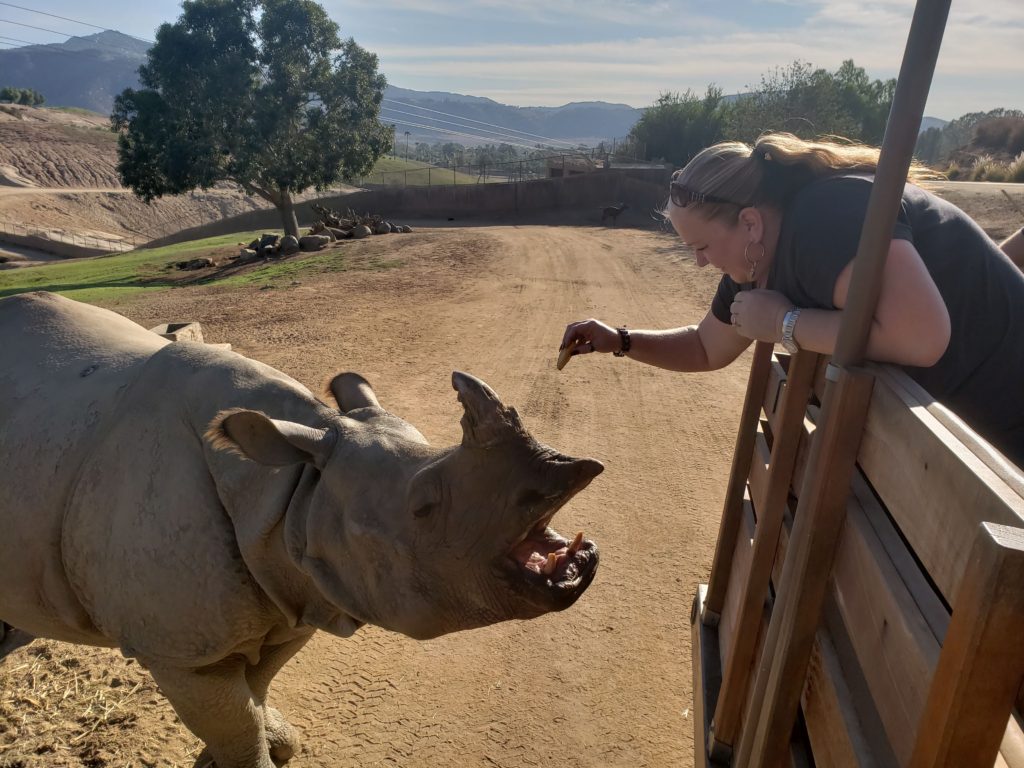 We also had a quick glance of the fastest recorded animal on land running, the Cheetah. The Cheetah run is held once a day at 3:30pm. It is highly recommended to arrive at least 30 minutes early for a good spot to see the Cheetah run in the direction towards you or you can pay $15.00 for reserved viewing in front of the crowd.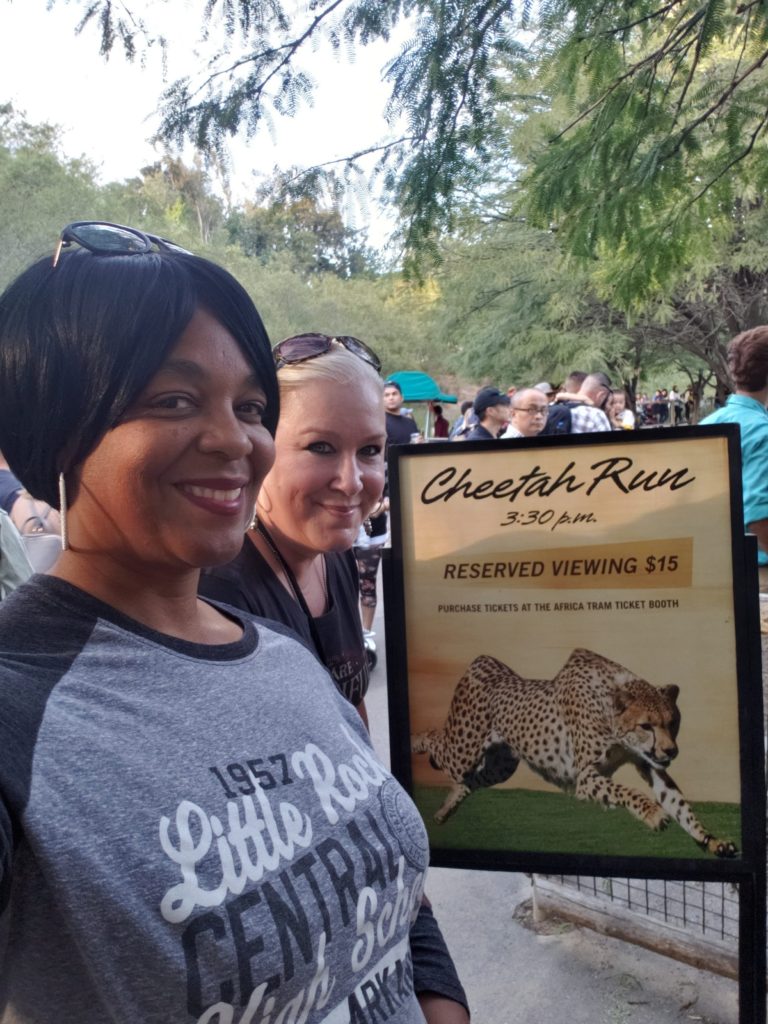 Roar and Snore occurs from February through November between the hours of 4:15pm through 9:30am. It is worth noting there is an adult only Roar and Snore option for ages 21 and up. There are three tent options classic tent suitable for five (5) people, vista tent suitable for six (6) and premium tent sleeps up a family of four. The premium tent includes a queen size bed, two cots, bed linens, pillows, electrical outlets, wood floors and area rug.
We had to stand in line to check in promptly at 4:15pm to receive wrist bands and our tent number, which allowed staff to deliver our belongings to our classic tent before sunset.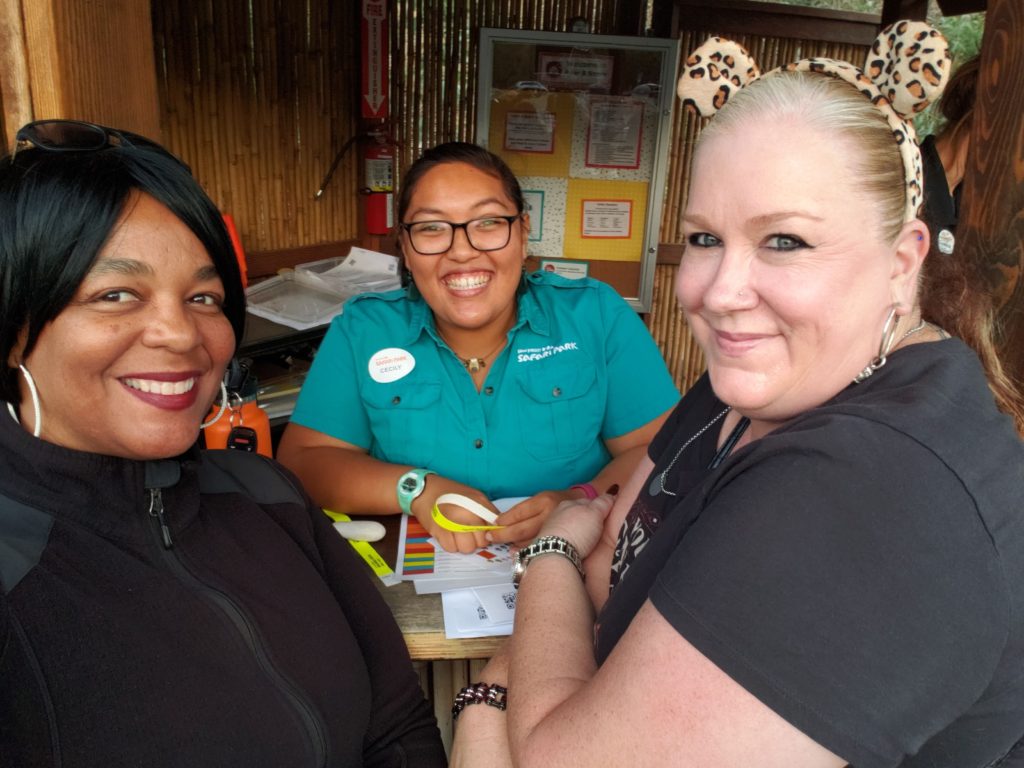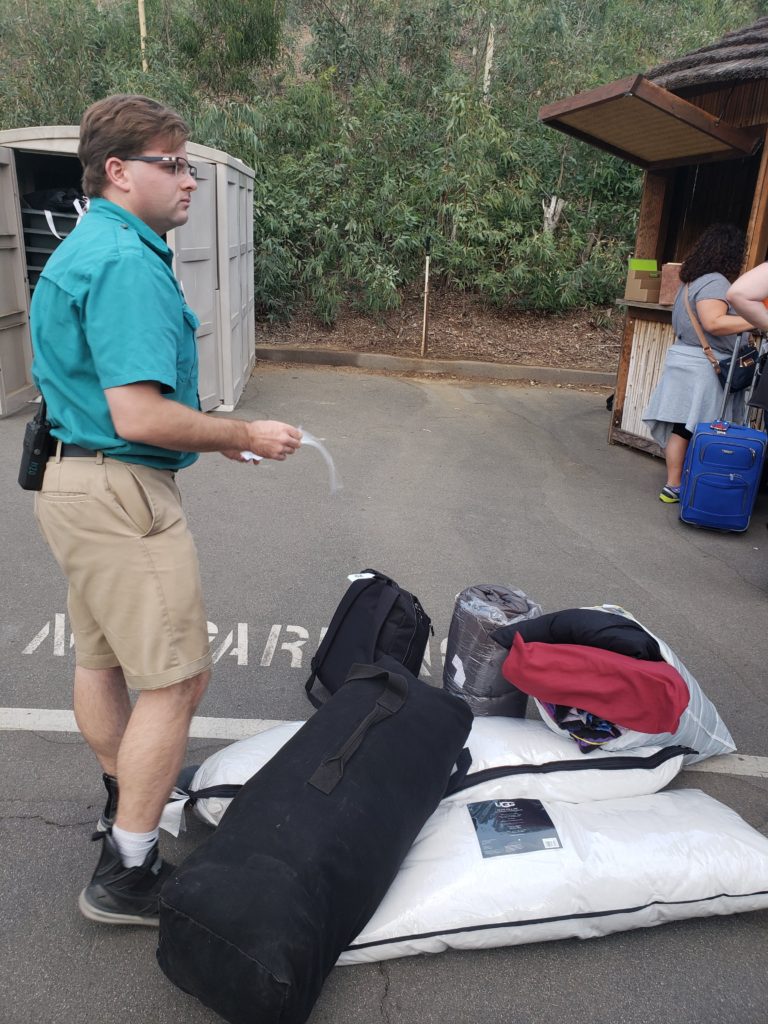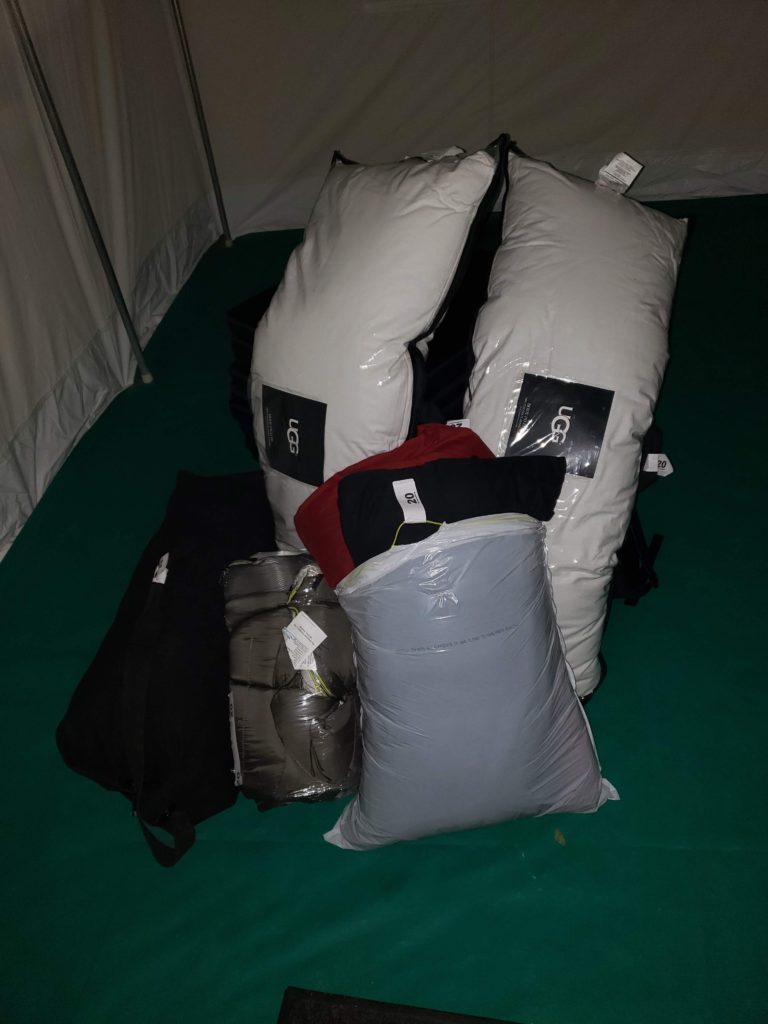 After checking in, we received a cute plastic water pouch with instructions to fill up with water while we wait for camp guide leader to walk us to the campsite area for dinner.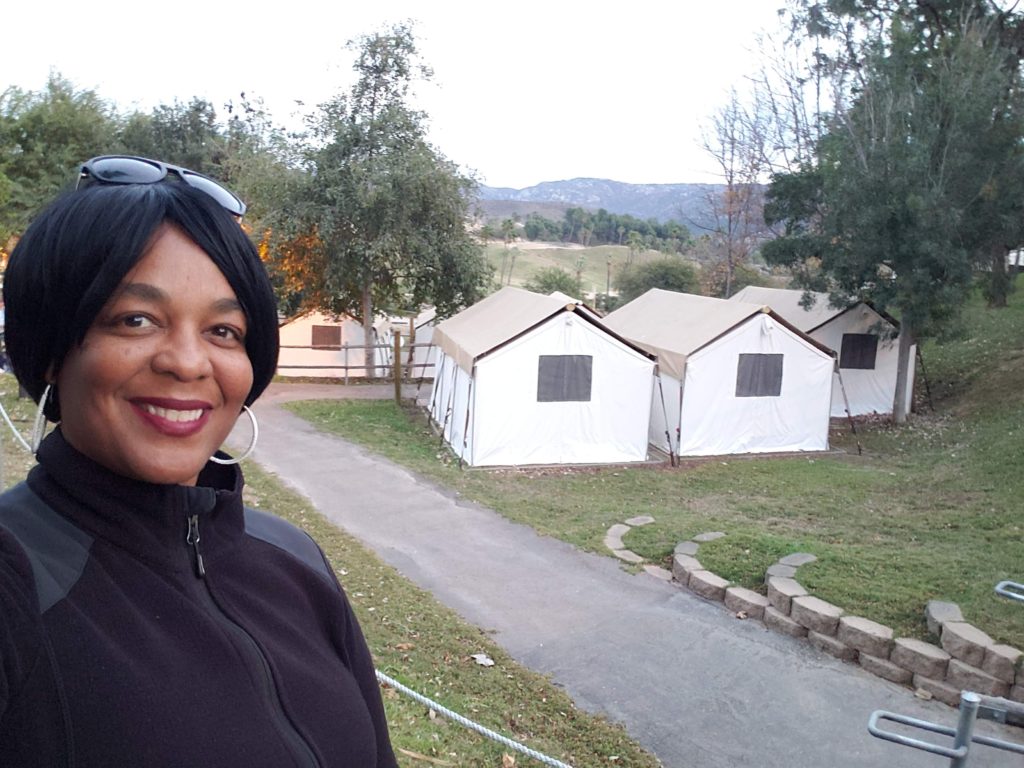 Electrical outlets are available in common areas of the campsite to charge mobile phones, laptops or other small devices. Portable chargers with full charge are available to purchase from a kiosk in the park for $30.00.
The dinner menu included roasted chicken, tri-tip, mash potatoes, grilled portobello mushrooms with vegetables was the alternative option for vegetarians, green salad with only ranch dressing, black bean and corn salad. The food was delicious and there was enough food for a second serving.
Non-alcoholic beverages included lemonade, iced tea and iced water.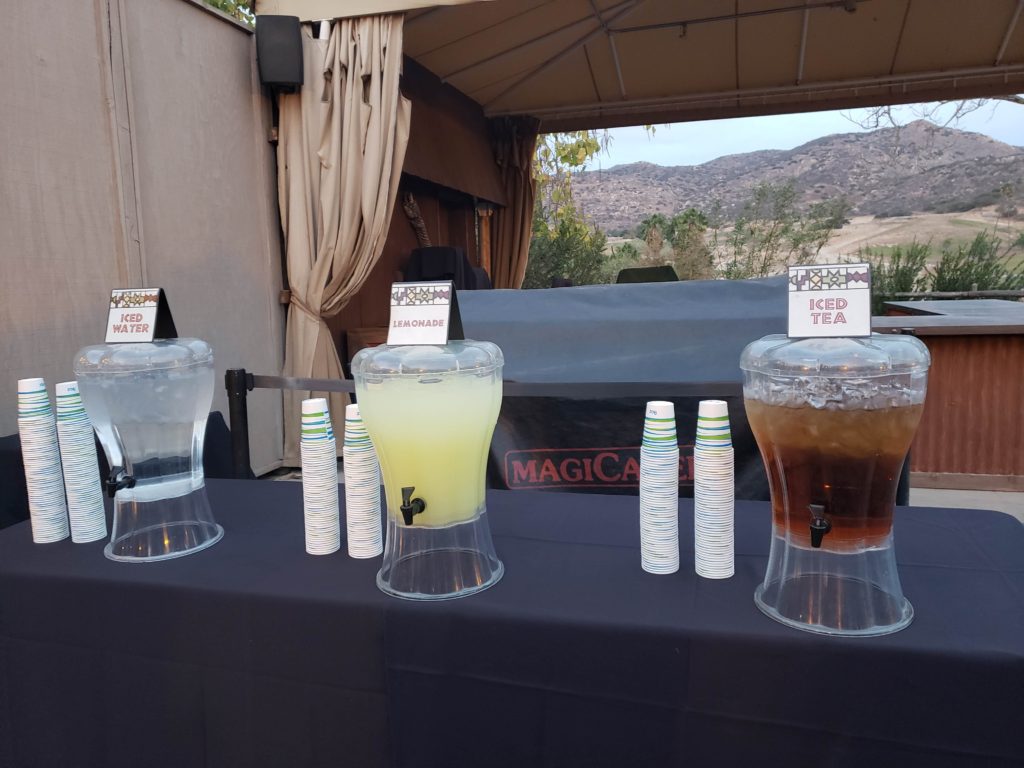 There was full bar service with professional bartenders to serve a variety of adult beverages with outstanding customer service. The price range was $5.00 to $9.00 for mixed drinks and the option to pay with cash, debit or credit card.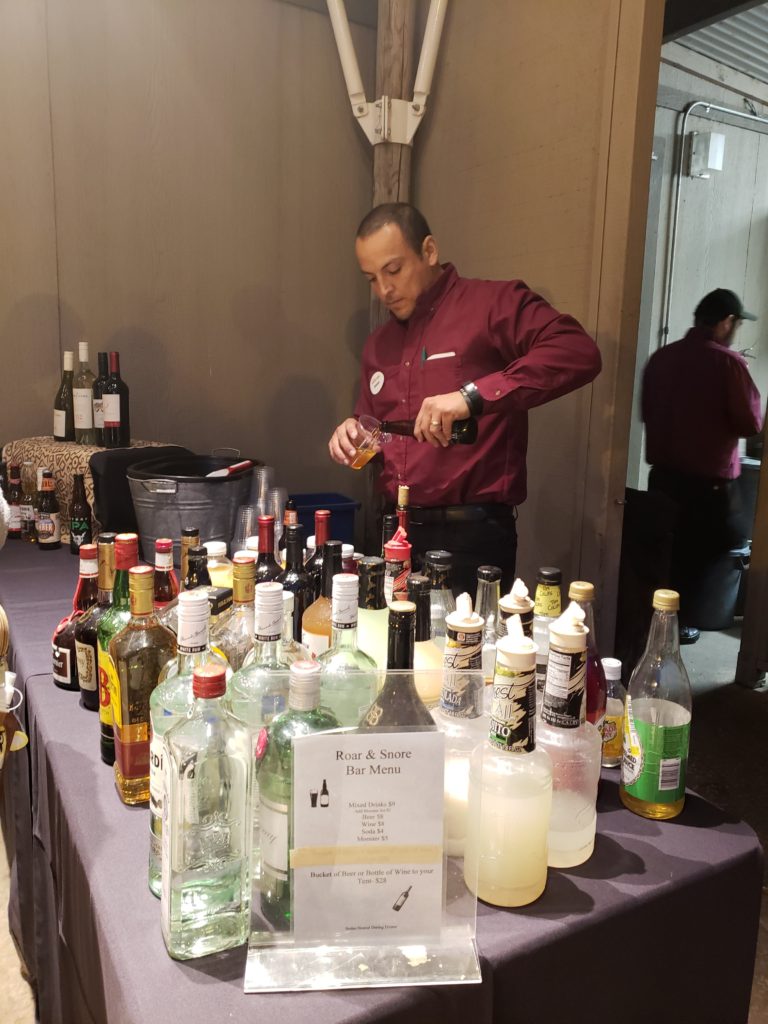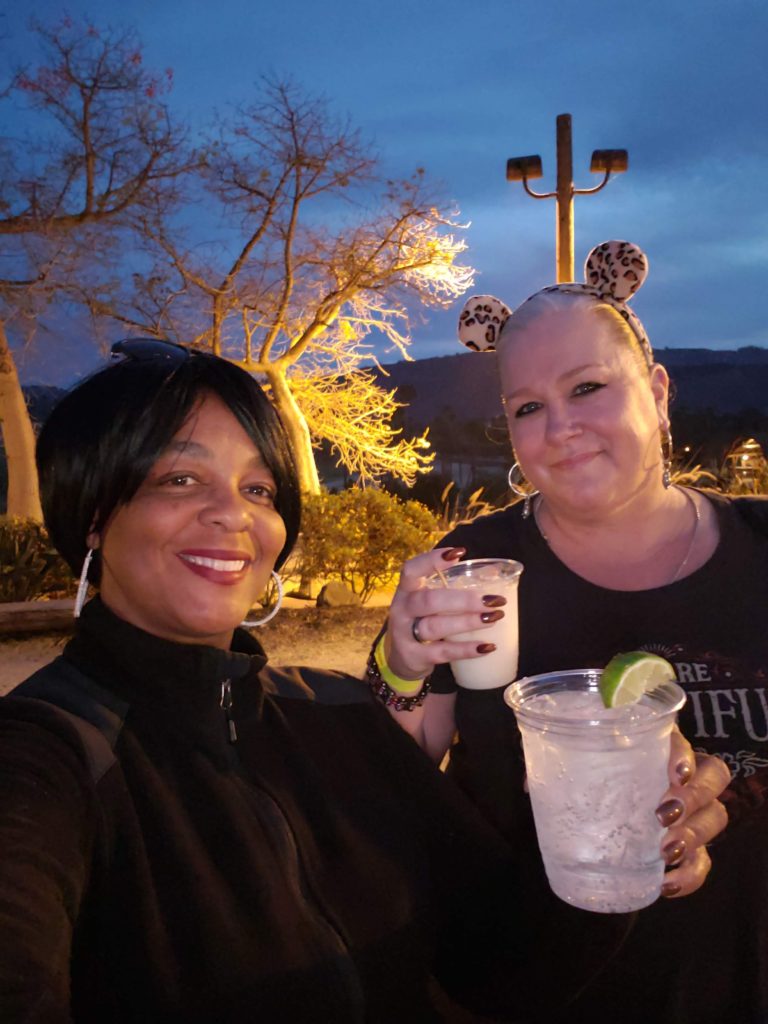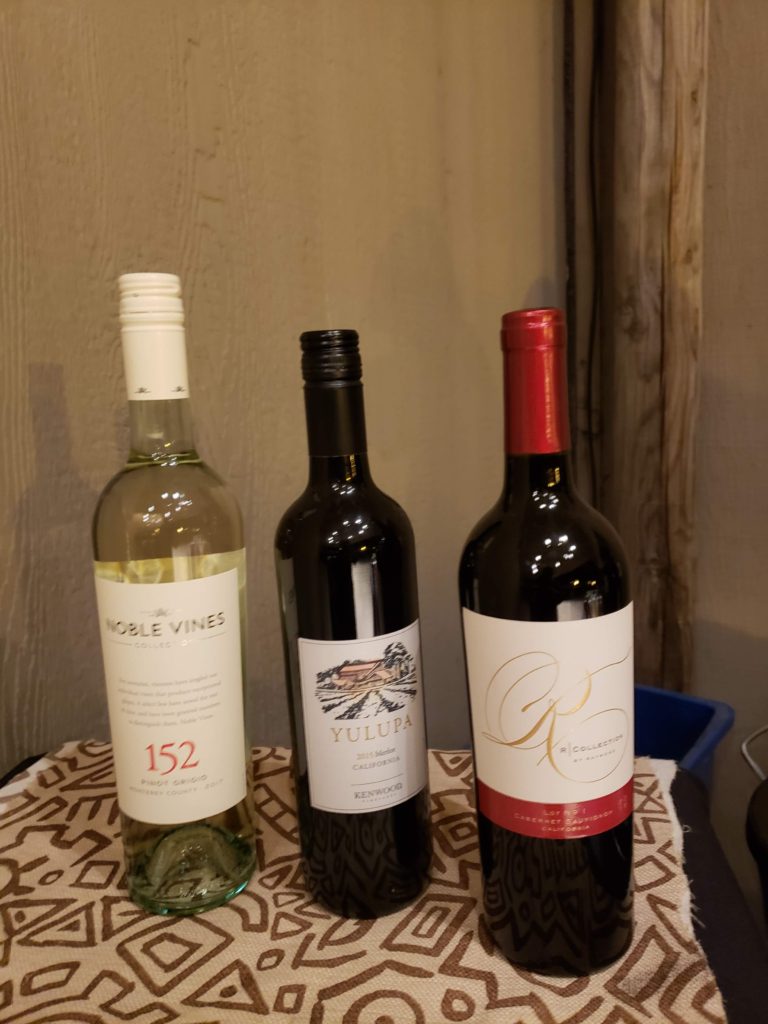 The bar menu offered a bucket of beer or bottle of wine delivery to your tent with plastic cups for $28.00.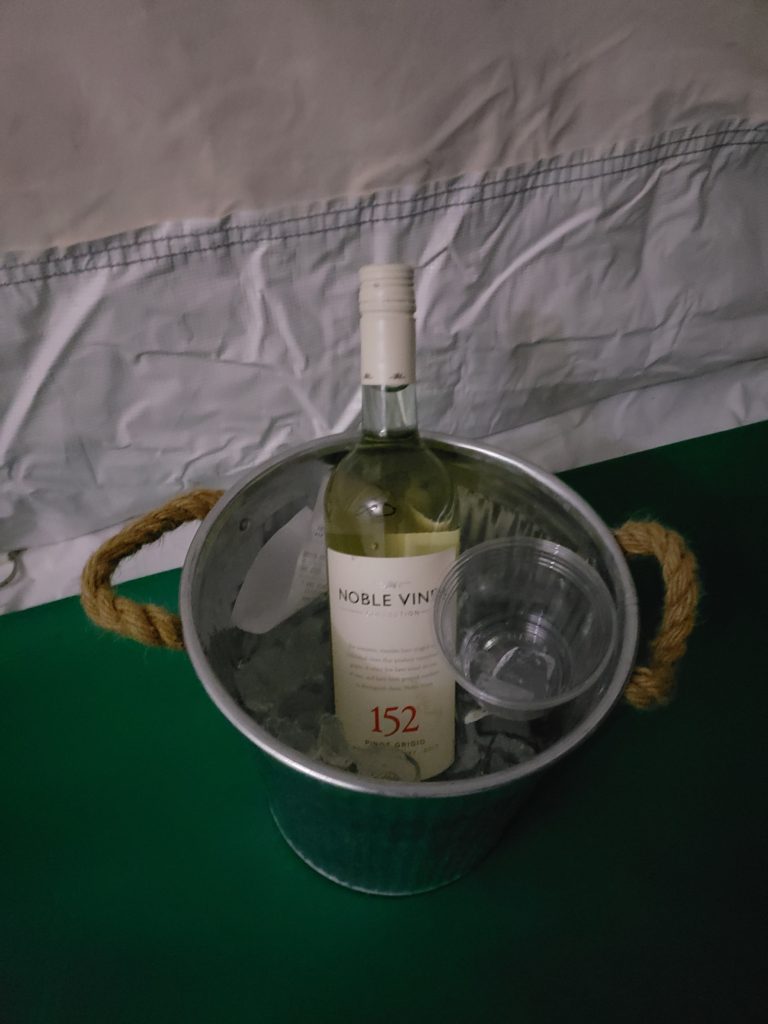 Coca Cola products were available for purchase in a vending machine included Coke, Diet Coke, Sprite and Powerade.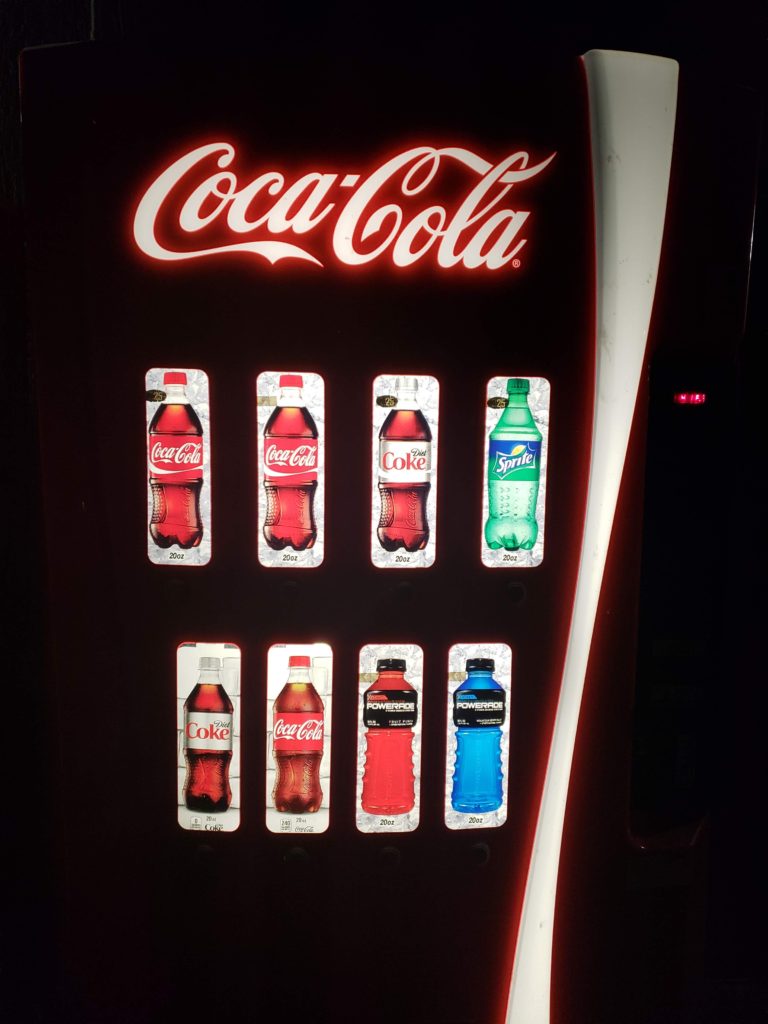 S'mores was the treat after dinner! We quickly gathered our ingredients of graham crackers, marshmallows and Hershey's milk chocolate and campfire roasting sticks to make our marshmallows gooey for the perfect S'mores!
In 1927, S'mores was called a Graham Cracker Sandwich in publication called Tramping and Trailing with the Girl Scouts. National S'mores Day is celebrated in the United States of America on August 10th.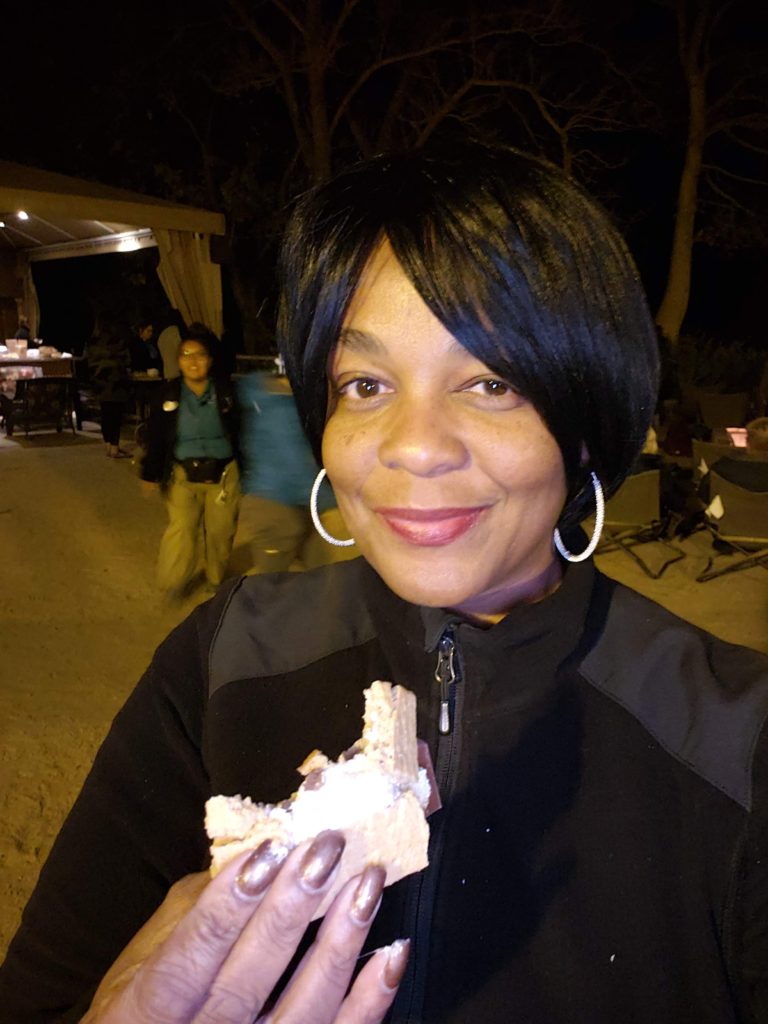 Our camp guide escorted us on a behind the scenes 2-mile exclusive walking tour on the Tiger Trail.
Before arriving to the Tiger keeper area, we had a learning session about the Tawny Frogmouth bird.  Most people including myself thought the bird was an owl. The Tawny Frogmouth is a predator in the Night Hawk family that survive off mice, lizards and spiders.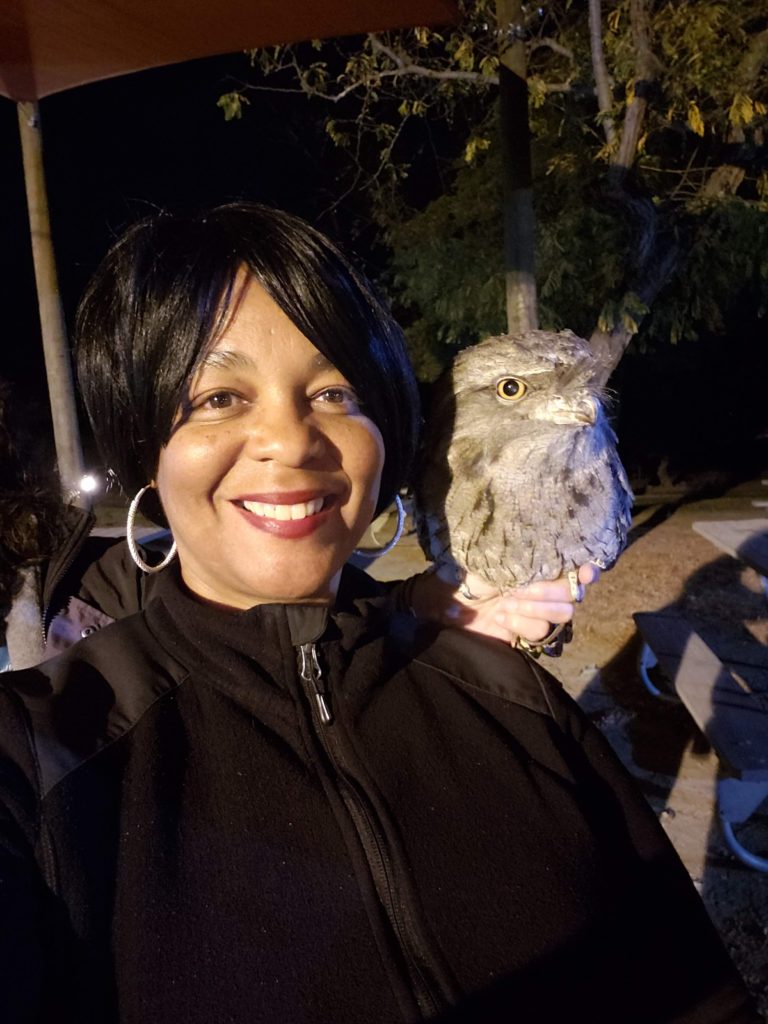 Inside the Tiger keeper area, we were able to see a video camera always on display to monitor tiger's activity, tiger's activity board, a hard-plastic ball destroyed by tigers' teeth, food, which included ground beef feline diet and iced blood inside a Bundt cake pan.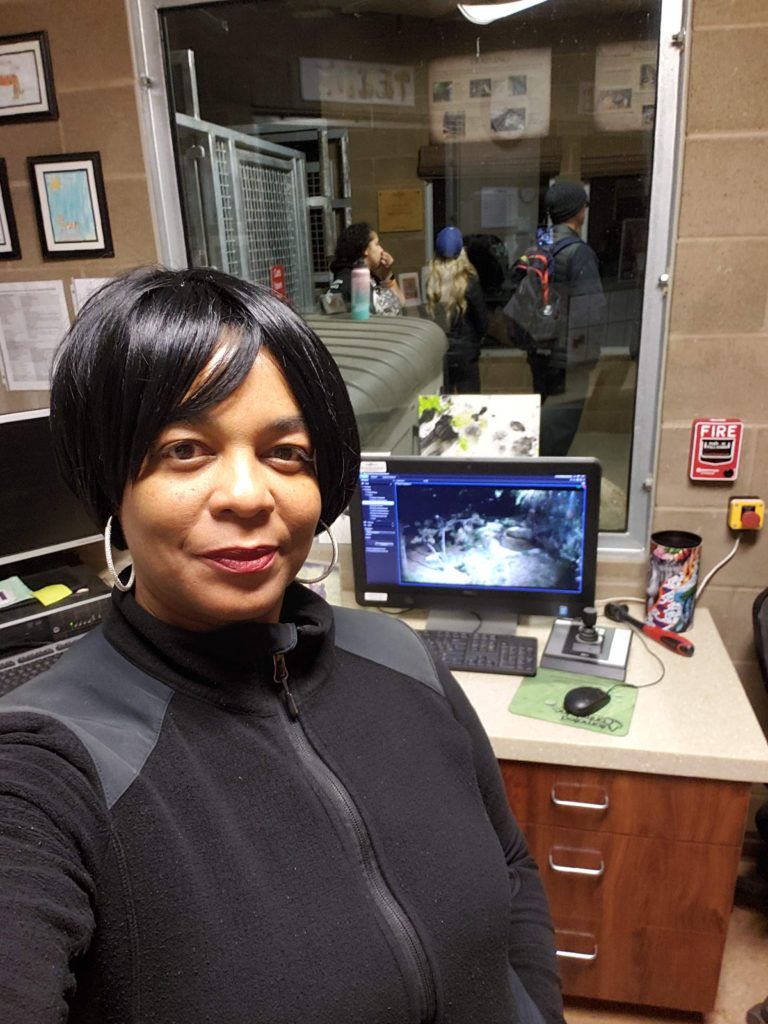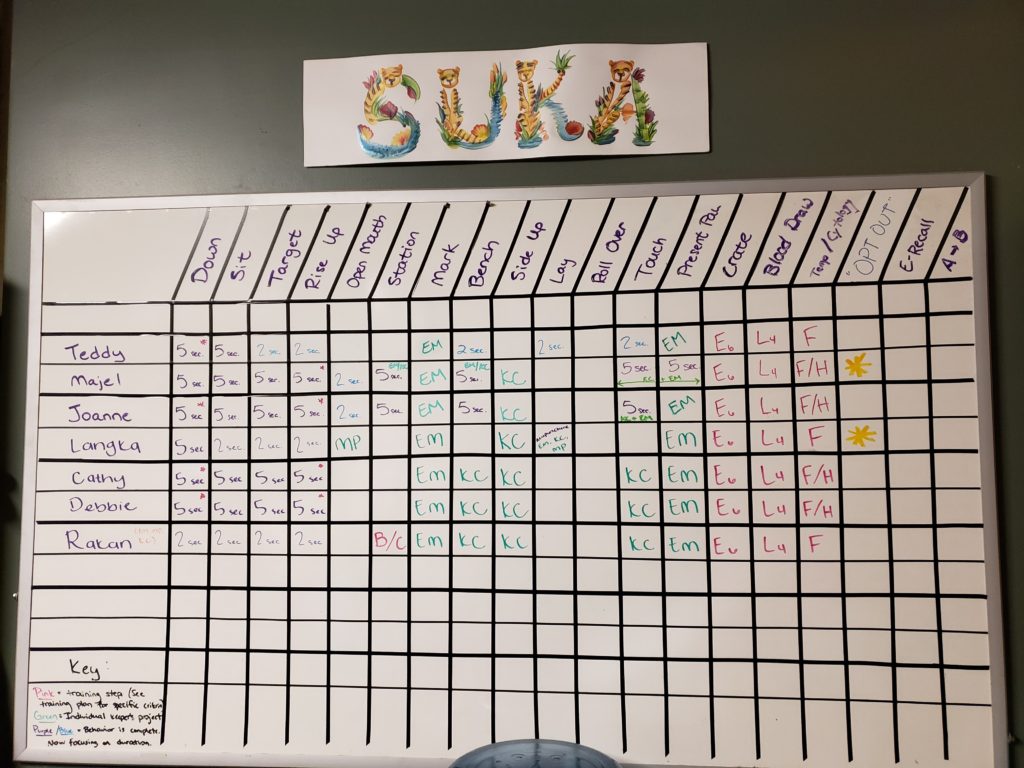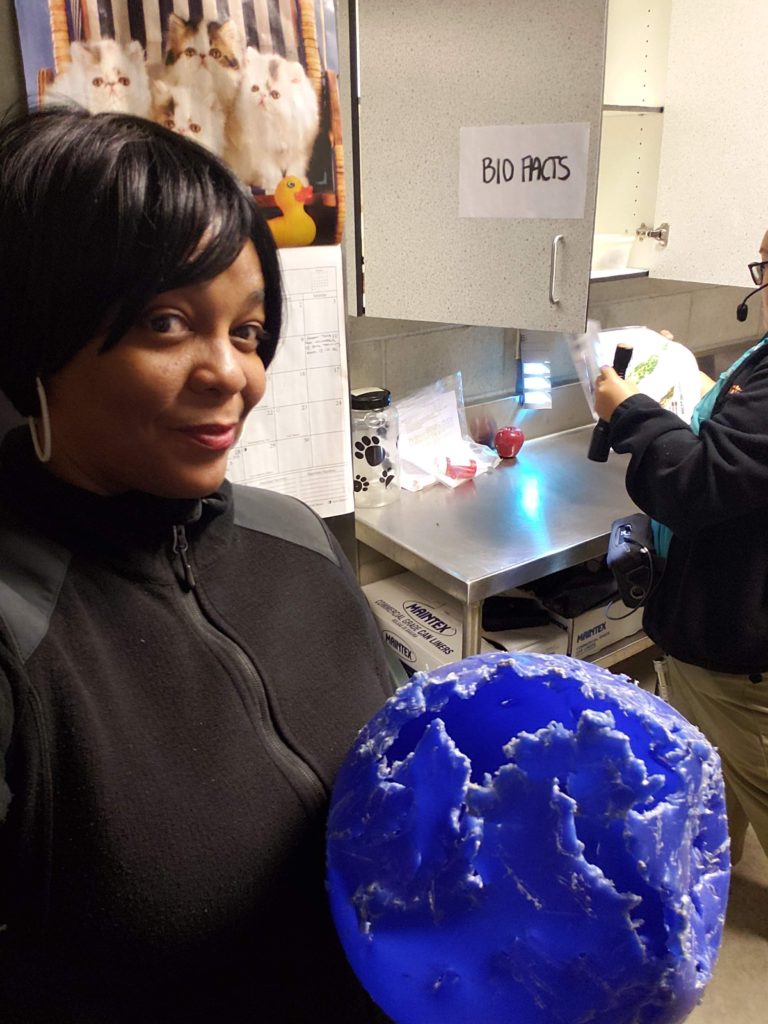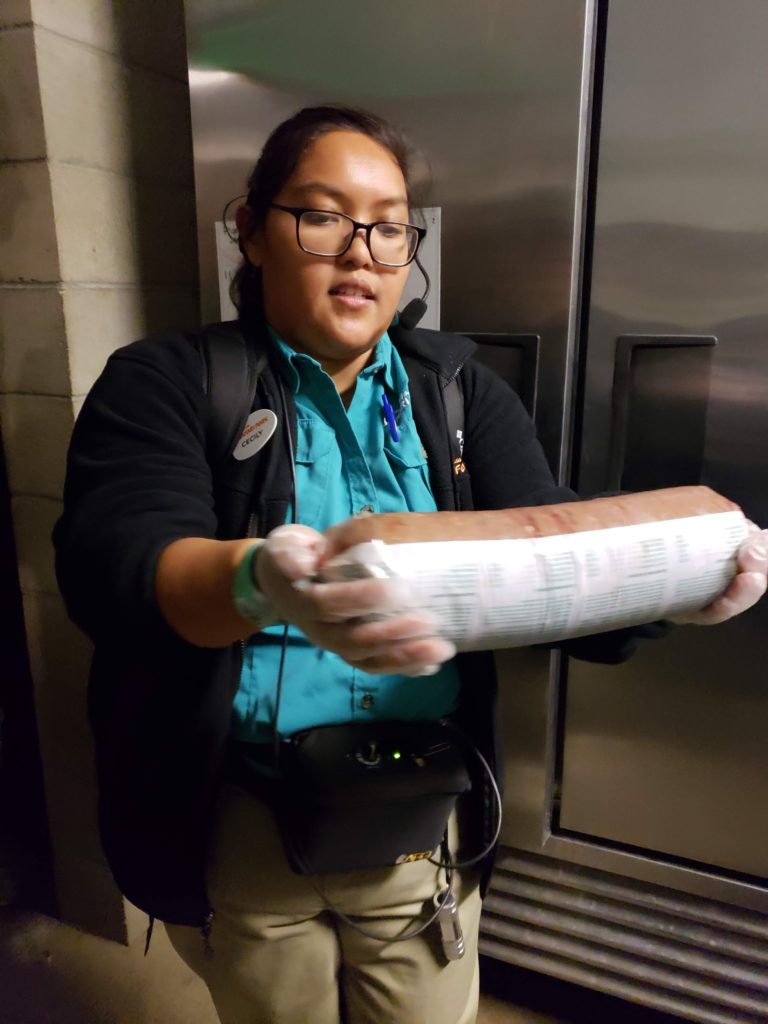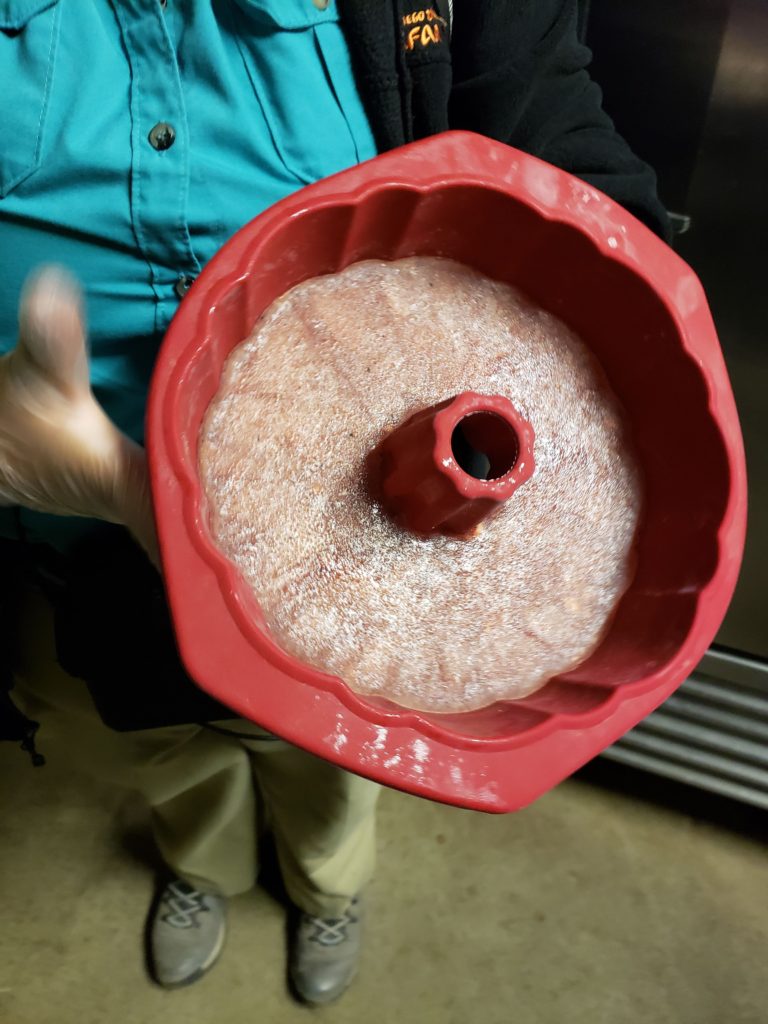 We return to the campsite for snacks hot buttery popcorn, cookies fresh from the oven, hot chocolate and coffee to warm up before the 11:00pm lights out schedule.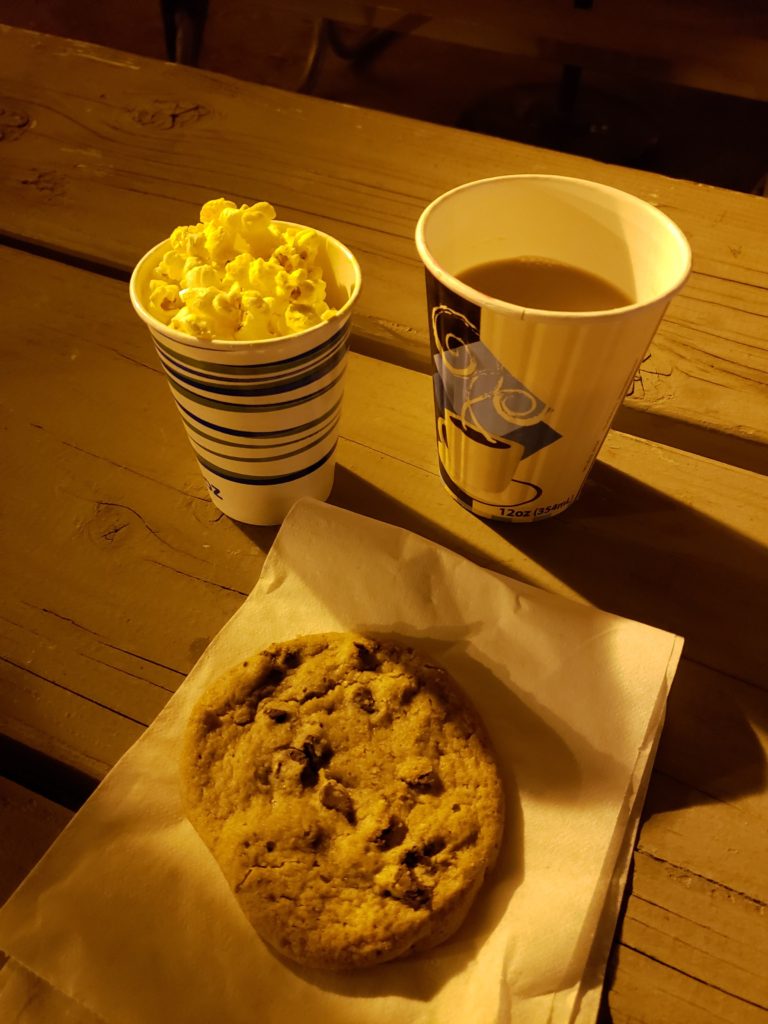 There are clean and heated gender specific restrooms on the campsite with hot running water, flushing toilets, one with and without showers.
The restroom without showers have more stalls and fancy outdoor sinks with mirrors.  Make sure you take your flashlight with you for late night restroom visits to avoid a possible encounter with wildlife in the dark.
I strongly suggest sleeping in layers with onesie pajamas, gloves and a face mask because it gets cold at night during the fall season…lol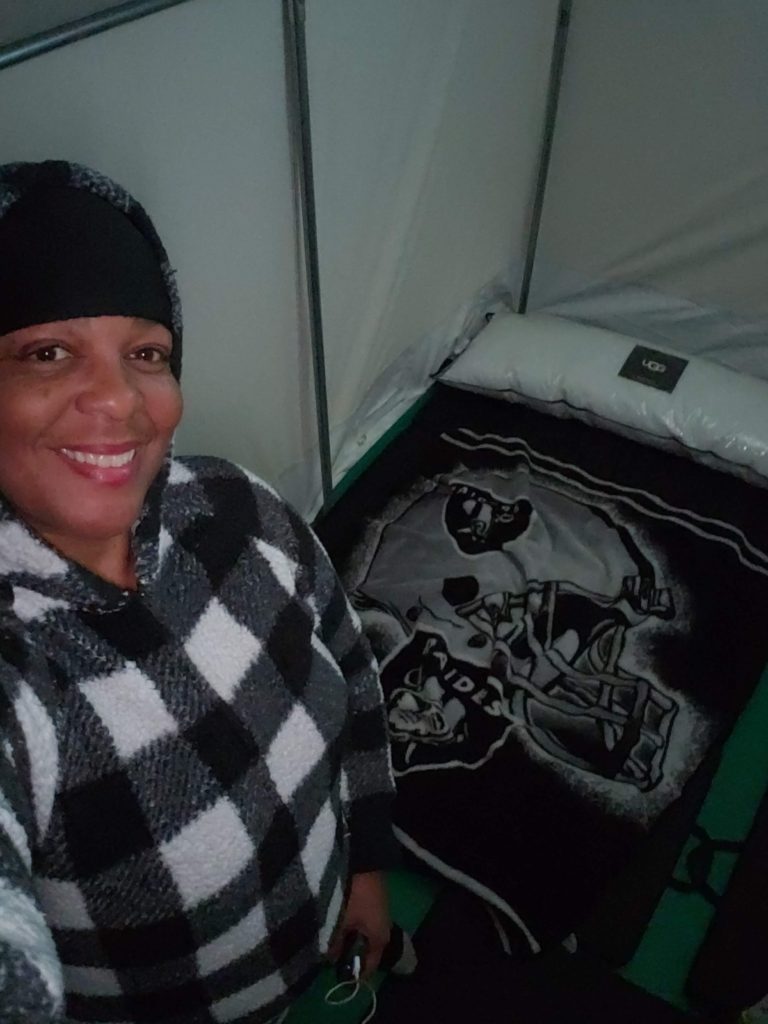 We went to sleep and woke up to the lions roaring at approximately 5:00am prior to the two wake up calls of 6:15am and 6:45am, to ensure everyone leaves the campsite promptly at 9:30am. We packed up our camping gear and place it outside our tent for staff to pick up before our morning walk to see the lions on the way to breakfast at 7:00am.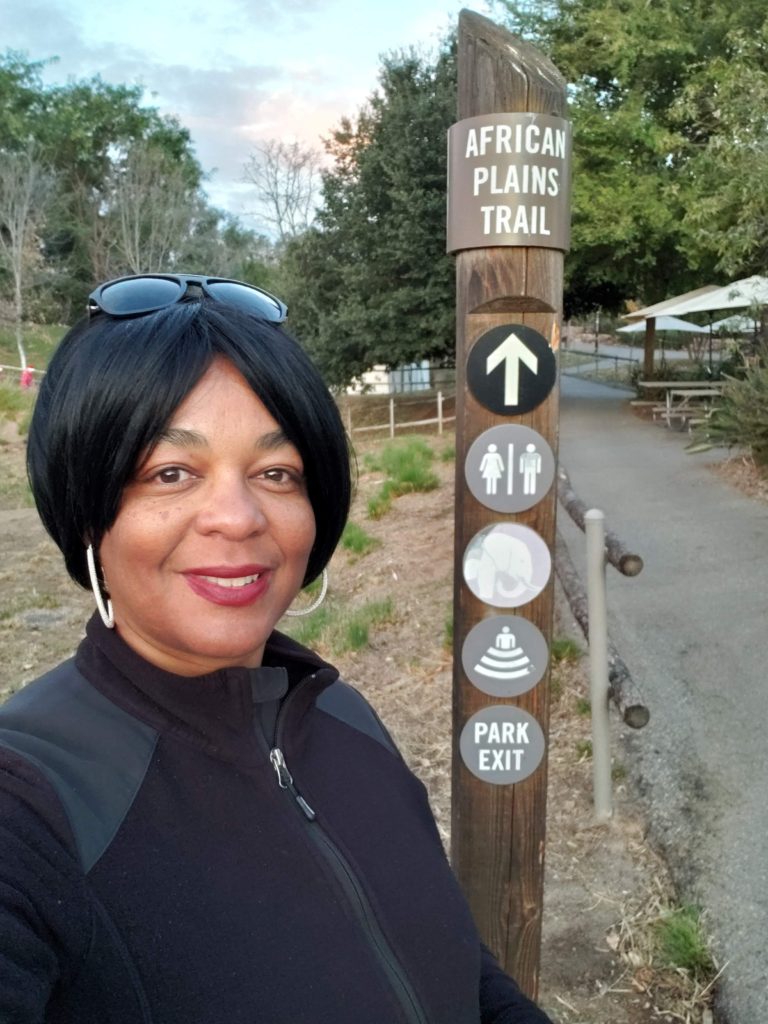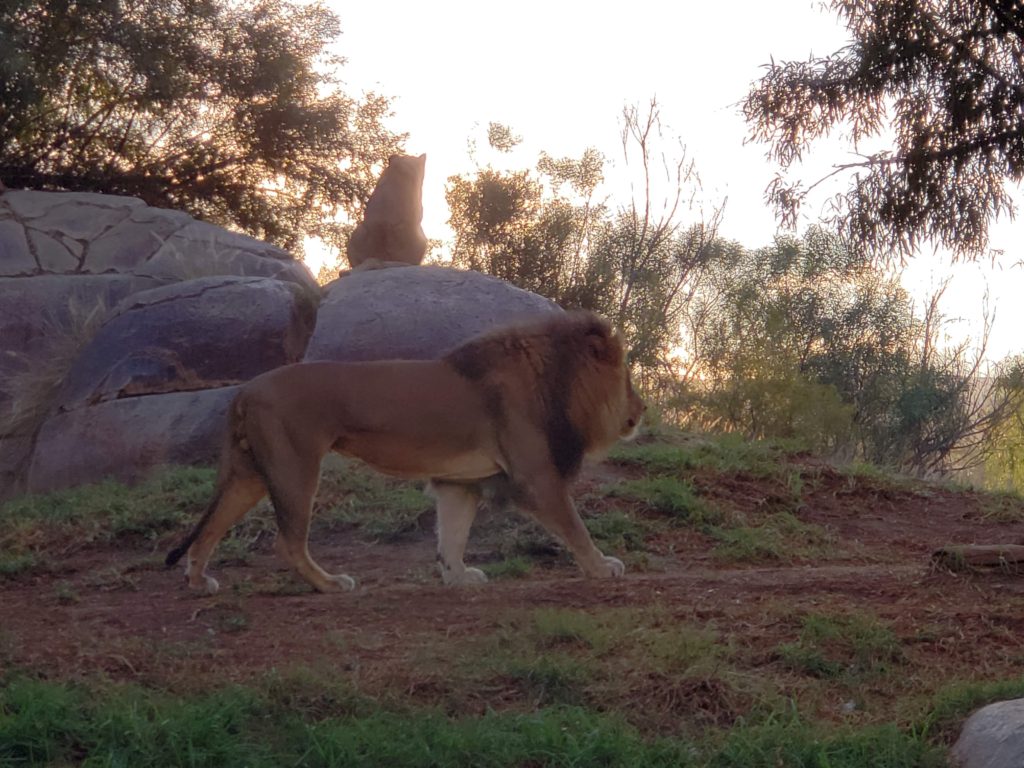 Breakfast included pancakes, cheese omelets, potatoes, sausage and vegie sausage, pears, apples, orange juice, milk, coffee and hot chocolate.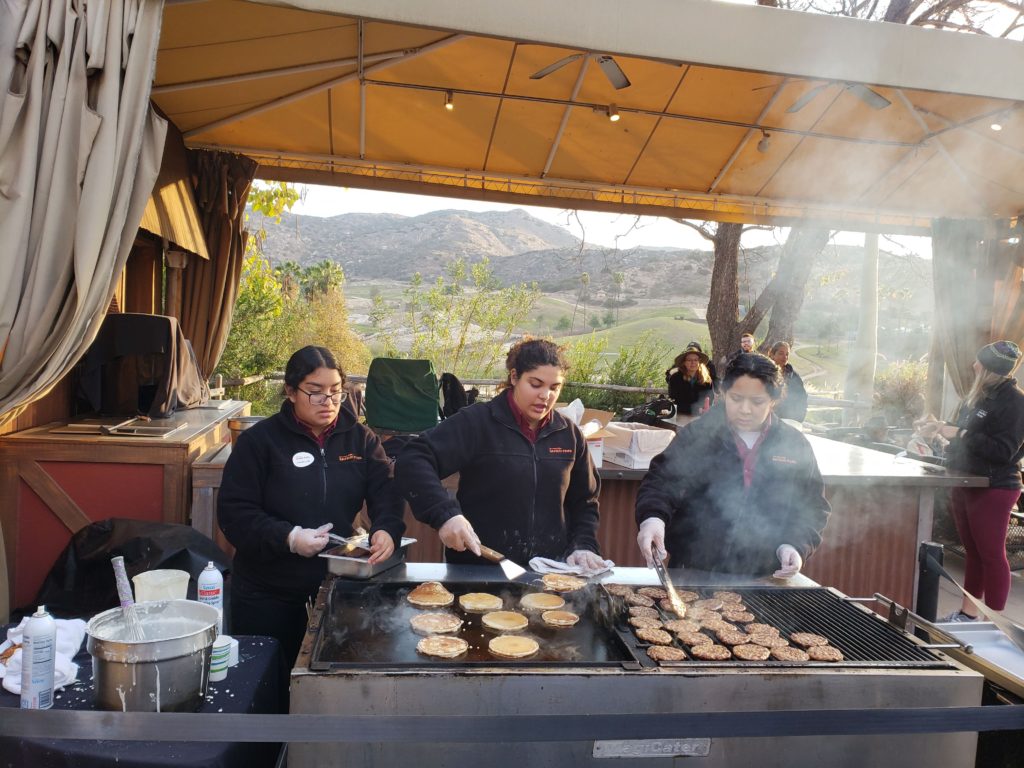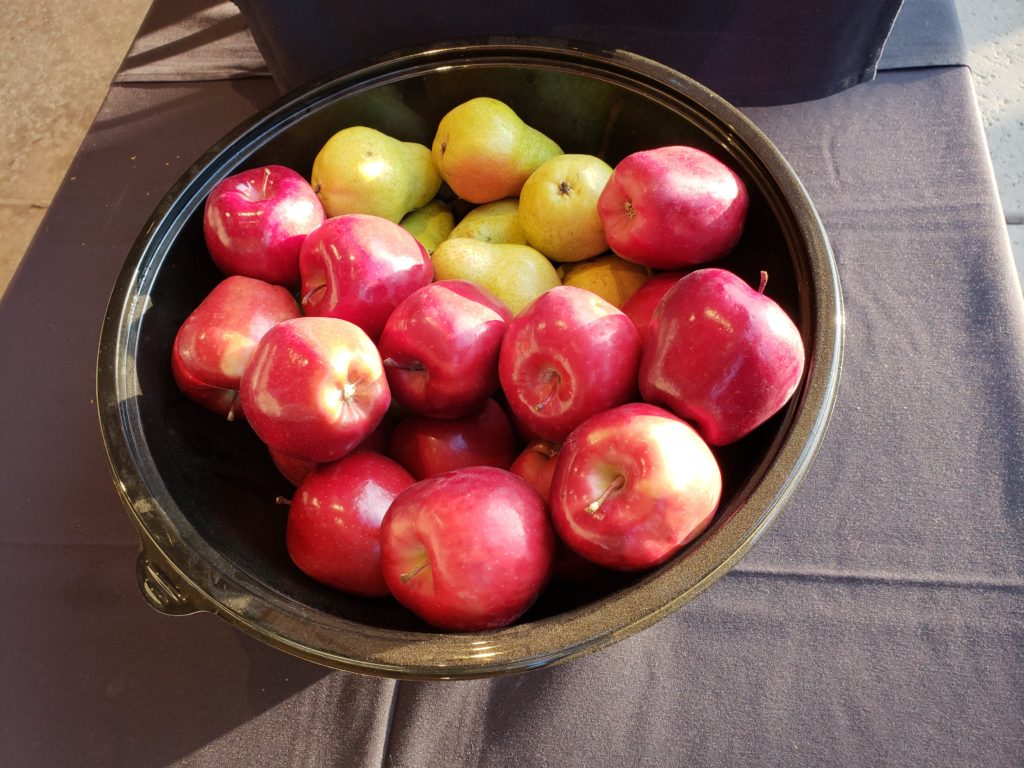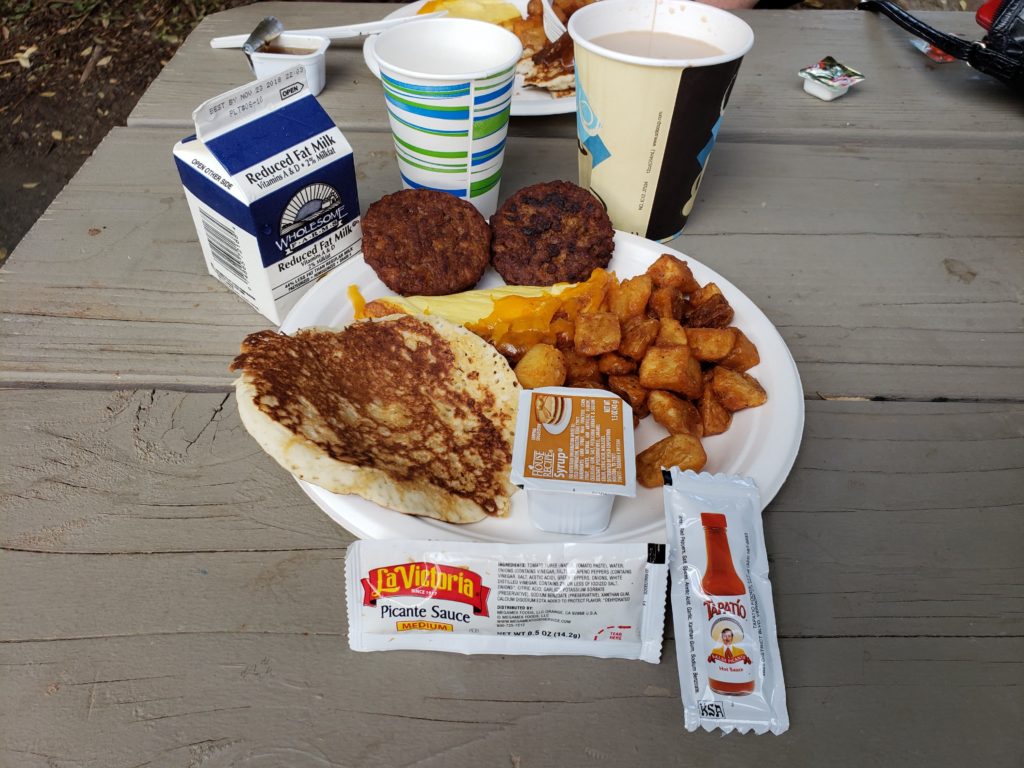 We walk less than a mile to get on a tram. We ride through the park and observe the vibrant activity of the animals before our amazing journey ends.