I noticed on my 18th cross country motorcycle ride an increase of wild horses roaming the open roads and bringing traffic to a complete stop.
A few wild horses crossed my path while riding my motorcycle at a slow speed on twisting roads through the mountains in Carson City, Nevada.
I was able to capture a picture of a couple of wild horses grazing the grass near a Chevron gas station.
Wild horses are protected by Federal law via the Bureau of Land Management and roam free in the western states of Arizona, California, Colorado, Idaho, Montana, Nevada, New Mexico, Oregon, Utah and Wyoming.
Nevada is home to 60% of the wild horses in the United States of America
The Bureau of Land Management provides holding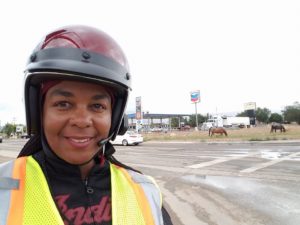 facilities to remove excess wild horses to protect rangeland from over-grazing, which is shared with private livestock.
Cattle Ranchers complain the Bureau of Land Management is not managing wild horses because they have increased 150% over the appropriate management level with a growing population of approximately 20% each year.
The Bureau of Land Management reports a decrease of wild horse adoption from 9,000 per year to less than 3,000 per year.  The holding facilities are getting over crowded.  The cost to maintain 50,000 wild horses and burros in holding facilities is more than $43 million per year.
Wild horses can live 25 years or more in captivity.
Please ride your motorcycles with caution in the wind so the wild horses can run unbridled and live free!